Master Maine Guide
Offering more options, in more sports, at the best prices!

Canoeing, Camping, Sailing, Sea Kayaking, Birding, Hiking, Backpacking, Climbing,
Fishing, Hunting, Cross-country Skiing, Snowshoeing, Snowmobiling.
Nature Photography, Moose Safaris, Whale watching, and Applachian Trail support.
The Allagash, The St. John, The Machias, The St. Croix, The Penobscot, and 22 other rivers.
Also offering Shuttle services and complete Outfitting. Equipment rentals available.
Operating from the Atlantic Coast to Moosehead Lake to the Western Mountains.

Wilderness River Canoe Trips a speciality!
---
Hello from Iraq
(and the "Plains of Abraham" in ancient Babylonia)
---
---
---
Now, let's first check out our Moon




The box below depicts the Moon as you would actually view it if you stepped outside this instant! (If the Moon has risen of course). Note that it's percentage of illumination is given as well as its current distance from the Earth (you can see that value change in real time if you wait a bit, as the Moon is always either receding or approaching the Earth. Also given is its apogee and perigee data. Times associated with the upcoming phases of the Moon are in UT (GMT) whereas the time displayed in the clock area is your local time (as read from your computer clock). What you see is "Real Time" stuff and will change as you watch or revisit. It's the Moons true status right now and.......


"You are there", live! Cool, Hey?



And now, check to see if and/or when you can view the International Space Station passing overhead at your location. Just fill in the data asked for in the box below.
Good sightings are when the ISS is 40 degrees or higher above the horizon.






Now, click on the "Loon-on-the-Nest" photograph below to enter "The Loon's Nest" Web Site.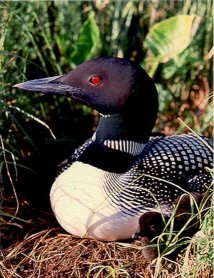 The best of everything "Outdoors" in the state of Maine!




















































The Loon's Nest web site domain
The Loon's Nest web site

What you'll find "inside"

(NOTE: The links below are primarily for the use of site page indexing
by WebBots, Web Crawlers, and Spiders.)
Please enter this site by clicking on the Loon picture above!
Table of Contents Home Page Top & Introduction General Information The Seasons What to Expect Sample Menu What to Bring The 27 Rivers and Trip Durations Table River Descriptions Pricing Schedual Equipment Rental Information Reservation Form Photo Gallery Loon Calls Wilderness Lakeside Log Home for Sale Allagash River description Machias River description Penobscot River description St. Croix River description